Electric muscle stimulation, or EMS, is a type of physical therapy that encourages muscles to heal and creates a pain relief response in the body by reducing inflammation. Combining electrical muscle stimulation with chiropractic treatment can result in faster healing and effective long-term pain relief. Dr. Louis Valentine, LLC, a chiropractor in Cincinnati, is trained in the use of both therapies and has helped patients regain their mobility and become comfortable in their bodies without resorting to surgery or prescription medication.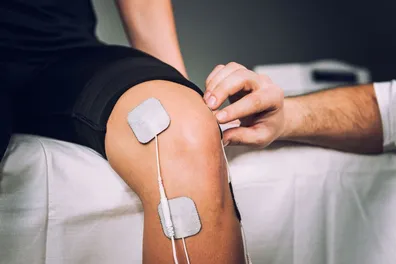 Electrical Muscle Stimulation Overview
Electrical muscle stimulation involves sending a mild electrical current directly into the muscle via electrical leads. The leads are placed on top of the affected muscle and are connected to a device that controls the type and intensity of electrical impulse. When the device is switched on, your muscles begin to gently contract and relax without your direction.
Muscles undergo contraction in a specific pulse pattern. Our chiropractor will select a pattern that is appropriate based on your condition. The overall goal of electrical muscle stimulation is to reduce and eliminate swelling from edema, promote healing through increased blood flow, and help muscle fibers to regenerate quickly. Sometimes, the body is stubborn about healing itself and takes longer than it needs to resolve an issue.
How EMS and Chiropractic Care Work Together
Combining electrical muscle stimulation with chiropractic care helps the body recover quickly and easily. Our chiropractor can start treatment of a chronic condition with chiropractic adjustments, and use EMS after the session to further enhance healing and pain relief. Treatment with EMS can be as relaxing and soothing as a massage and help you relax after a chiropractic adjustment.
Combining chiropractic treatment with electrical muscle stimulation provides effective pain relief without the use of prescription medication. It is non-invasive and can be continued for as long as the patient needs without the risk of side effects or damage.
Call to Make an Appointment with Dr. Louis Valentine, LLC at Our Cincinnati Clinic
Contact us today to learn more about the types of chiropractic care offered by our chiropractor Dr. Louis Valentine, LLC at his Cincinnati clinic. For more information on the benefits of electrical muscle stimulation or to schedule an appointment, call us at (513) 788-7246.